SAGE ADVICE IN OUR INTERVIEW OF CREIGHTON PA PROGRAM DIRECTOR, STEPHANE VANDERMEULEN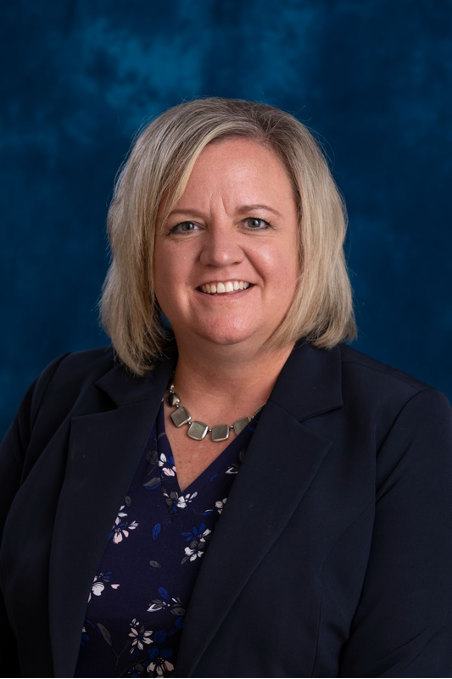 Since we started doing interviews for our blog, we've had a desire to interview a PA Program Director. Given that we work with so many 1st and 2nd year PA students, we knew there would be much to learn from the other side of the faculty-student dyad. We couldn't have found a more PA education-focused, kind, insightful, and informative Program Director than she from the Creighton PA Program: Stephane VanderMeulen.
Stephane VanderMeulen, MA, MPAS, PA-C, has quite the impressive CV. She has been an outspoken advocate for Pre-PA and PA students. She is someone that we should all be thankful to have in our corners. In addition to her role as PA Program Director, she was a 1GEN student, worked clinically in family medicine/sports medicine, served on the PAEA Board of Directors for 7 years, is the Chair of the Department of Health Professions for the CU School of Medicine, and co-hosts the PA Path Podcast.

After connecting through our IG account, she agreed to let us interview her, and she over-delivered with absolute golden responses! Getting to know her via this interview has us envious of those lucky enough to attend Creighton. She also convinced that she has the skills, experiences, and passion to change the Pre-PA and PA-S worlds for the better. We feel confident that you'll feel the same after reading, so enjoy our first interview with a PA program director.
Tell us a little about yourself (PA career path, personal, etc.).
"I grew up in a small town in rural Nebraska and attended a state college as a first-generation college student. It wasn't until much later, after I became an educator, that I realized the challenges posed by being a 1GEN. Even during those years, I don't believe I fully recognized the extent of those challenges. For that reason, 1GEN students are near and dear to my heart.
My path into the PA profession was fairly traditional in that I matriculated to the University of Nebraska Medical Center PA program directly after undergraduate school. After graduation in 1994, I worked in rural Family Practice in north-central Nebraska for a short time before joining a Sports Medicine and Orthopedic Surgery practice. I worked closely with upper extremity specialists for the majority of my clinical practice years before becoming a full-time educator in 2005. I started my education career at the University of Nebraska Medical School PA program and in 2016 I was hired as the founding Program Director of the Creighton University PA program in Omaha, Nebraska (Go Jays!).
I'm proud to have served for 7 years on the PAEA Board of Directors, including a three-year term as President-Elect/President/Past president which allowed me to develop a broad network of colleagues at PA programs across the country who serve as mentors and friends.
My husband and I have two sons who are both in college at Creighton University and the University of Minnesota. We love to travel when we can. In my spare time I love to cook and I like to fiddle around learning new art techniques (watercolor painting, loom weaving and printmaking are my most recent endeavors). I'm also an equestrian and spend much of my free time at the barn with my horse, Teco. "
As PA program director at Creighton, you're working with a variety of students and a new cohort each year. What traits have you found to be most common among your most successful students?
"I think students find their success in their own way and along different timelines. One of my colleagues uses a phrase that I love: "Comparison is the thief of joy." Each student is on a unique journey and it's one that is best traveled with the support of those around you: classmates, faculty, staff, family and friends. Don't compare yourself to others. Do your best, learn as much as you can, and develop into the best PA you can be.
That said, there are characteristics that can really help students navigate the PA school path:
Grit: PA school is HARD. So much of student success is simply showing up and getting the work done day in and day out. It may sound simple, but months into a challenging didactic curriculum, it can become very difficult. The students who can dig deep, persevere, and gut out the long and difficult days & weeks with a can-do attitude are the ones who come out the other side the most unscathed.
Acceptance of something less than perfection: In PA school there is far more information to be learned than you'll reasonably have the time or capacity to fully master. For the over-achiever types (a common trait among those who matriculate to PA programs), this is a DIFFICULT transition of mindset. In undergrad, you likely went into every exam feeling prepared and as though you had largely mastered the material that could be on the test. Students who are able to come to grips with the fact that they cannot and WILL not master 100% of the content that could be on each assessment will adjust to PA school much more smoothly.
Allow yourself to be less than perfect – your goal in PA school is not the 'almighty A' (they're REALLY hard to come by!) – School is no longer about grades, but about learning. Your A's got you into PA school and now it's time to refocus on learning and developing a solid foundation of knowledge and skills that will allow you to provide the best care for your patients. And also, allow space for failure and for being wrong. Some of the best learning occurs as a result of falling short of the goal. Find ways to learn from every experience available to you, both from your successes and from those times where you didn't quite meet expectations.
Flexibility: PA curricula are complex machines with a million moving parts that often depend on internal and external faculty to run. Many times these folks are practicing clinicians dealing with forces outside their control. So be ready to flex at a moment's notice. Medicine isn't a neatly-packaged 9-5 job, and neither is PA school. If COVID has taught us anything, it taught us to flex on the fly and to be ready for anything at any time. If you simply learn to expect the unexpected and go with the flow when it happens, you'll be mentally prepared for anything. This will serve you well, even into practice."
We all make mistakes during our careers, there is no avoiding that fact. What are some professional or personal mistakes that you've made in your PA career? What advice can you offer to others to avoid making similar ones?
"The old cliche "Life is too short" became cliche for a reason – because there's truth to it. The only regrets I have from my past (and they are blessedly few) are the times when I stayed on a path longer than I should have.
At some point in your life you may look around and realize that you're on a path that is costing you more than it is providing you emotionally, mentally, physically, personally, or professionally. Maybe you're on that road, whether it's a personal or a professional one, because at one point it excited or interested you. Maybe it served a purpose or a need or it got you started in a direction you wanted to go, but now it's more of a burden than a blessing. Or maybe you're following that path because of expectations imposed on you by others. There's a fine line between persevering through difficult times for something to which you're committed (an honorable trait) and staying on a path of eventual self-destruction because someone else thinks it's what you should do.
If you don't like your life, change it. Only you can do it. No one is going to rescue you and right the ship for you."
Academics, at times, seems to be a revolving door of professors and directors. Why do you think this is? What do you enjoy about being a director? What do you think would help decrease attrition in the academic world?
"PA education is a different animal than the practice of medicine. I have always said that it's those of us who carry a recessive "education gene" that choose to pursue it. I find that one of the biggest stressors for educators is a financial one. Because university budgets are tight, it is the lack of resources dedicated to programs that often drives good directors and faculty away. Lack of adequate staffing means long hours, often longer hours than those worked by many clinically-practicing PAs. This is a fact that usually surprises people unfamiliar with PA education when they think they'll "take a break" and go into academia.
Additionally, educator salaries are typically not as high as clinician salaries. Lower pay and long hours wears on people, regardless of their passion for education. PAEA's research shows that the top five factors stressing PA educators are: Self-imposed high expectations (surprising to no one, educators are over-achievers, too!); increased work responsibilities, institutional procedures and "red tape"; managing household responsibilities and lack of personal time. This gives a nod to the notion that overwork and lack of work-life balance are the main stressors. I believe the best tool for battling this would be advocacy within the institution to appropriately resource programs. I'm exceedingly fortunate to work for an institution that values our program and its faculty and staff and we are very well-resourced.
Personally, I will never tire of observing the transformation of bright-eyed, untrained new PA matriculants into capable, competent practicing clinicians by the time they are ready to graduate. Seeing the evolution of students through the continuum of PA education is truly an honor and a blessing. I gain great satisfaction in knowing that while I'm not directly caring for patients in my day to day life, I'm helping to shape tomorrow's PAs into competent, caring clinicians who will touch thousands of lives throughout their careers. It may be an indirect effect, but it's an exponential one, and for that I feel blessed."
Clinical work and academics are very different. What made you want to get into academics? What are some of the benefits that you see with not being clinical?
"As I mentioned above, passion for education is a recessive gene among PAs. It's either in your blood or it isn't. Even as a clinician preceptor, I loved spending time with students and helping them develop their knowledge, clinical skills and critical problem-solving abilities.
I began guest-lecturing for my alma mater and eventually they asked me to join the faculty full time. I don't think most people go to PA school with the idea that they'll leave clinical practice to teach, but for some of us, that passion is sparked and opportunity knocks. As with most who leave full-time practice, it was a huge leap of faith, but one I've never regretted and I have really never looked back. As a surgical PA I loved the OR and I do miss that some, but I love what I do, even on the hardest days, and I don't think I could leave it now.
Despite the long work hours, when you work with a great team like mine, there's a level of flexibility in education that doesn't exist in clinical practice. We largely have the ability to plan well in advance and can tailor our schedules to fit our lives. At my program, we are strongly committed to a family-first value, so people can better balance a busy work career with their personal lives. Working from home on days when you don't have in-person responsibilities is an option. We observe a flexible workday and if you unexpectedly have an ill child at home, it's much easier to have a colleague step in and moderate a small group activity for you or to reschedule a planned lecture than it might be to reschedule 15 patients in a clinic. We all work hard and support one another so we can meet both family and work expectations.
And while there is most definitely institutional red tape in academia, I think most practicing clinicians would agree that not having to deal with the bureaucracy of EHR, health systems, insurance, medicare/medicaid, etc would be a welcome reprieve. I most definitely do not miss those things."

We work primarily with clinical year students and newer graduates. What career advice can you offer folks who are on the cusp of graduating and ready to start their careers?
"Broaden your horizons. Don't be afraid to step outside your comfort zone and challenge yourself in ways you may not have previously considered. Think about practicing with an underserved population (the NHSC loan repayment program can eliminate a LOT of debt!) or in a field or geographic area you may not have entertained before.
Be humble, but advocate for yourself and our profession. You stand on the shoulders of the giants who came before you and worked hard to develop the profession as a respected member of the health care team. Be the kind of PA that others are proud to call a colleague.
BE A PRECEPTOR!! Hands down, the number one obstacle we face in PA education is the lack of clinical training opportunities. It's our achilles heel and the problem is getting worse, not better. Please give back to the profession by educating the next generation, just as others educated you."
See??!! Absolute gold with her insights, wisdom and pragmatism! We are so thankful for her to have taken the time to answer our questions, and we hope that our audience gets half as much out of this as we did. Thank you again, Professor VanderMeulen.
POST INTERVIEW
We asked Professor VanderMeulen to expand on her current PA-based endeavors so that we all could continue to learn more from her, and here is what she shared:
"I also co-host a podcast with a professional colleague and fellow Past President of PAEA, Dr. Kevin Lohenry. He was the PD of the USC PA program and recently left to become the founding PD at the University of Arizona. It's called the PA Path Podcast and is targeted at pre-PA students. We aim to provide them with free information about the profession and individual schools so they don't have to spend money on expensive services to be a competitive applicant."
Twitter
@CreightonPA_PD (S. Vandermeulen account)
@CreightonPA (CU Program account – program-run)
@PAPathPodcast (podcast account)
Instagram
Facebook
DISCLAIMERS: 1) The views expressed here are our own and do not necessarily represent the views of our employers. 2) We don't know what we don't know, so feel free to message us if you don't agree with something that you read. 3) We do have affiliate agreements with companies, so by clicking on our links and making any purchases, we may earn some money on those generated sales.
#thebetterwaytopa #thepablueprint #physicianassistant #physicianassistants #physicianassociates #physicianassistantstudent #physicianassistantlife #physicianassistantstudies #pastudent #palife #pasdothat #paschoollife #pastudentlife #burnout #paschool #pasofinstagram #medicine #career #healthcare #success #resilient #doctor #nurse #nursepractitioner #growth #covid