The PA-Preneurs Giving Back Scholarship
This community has given us all so much and we want to take an opportunity
to give back with the first PA-Preneurs Giving Back Scholarship!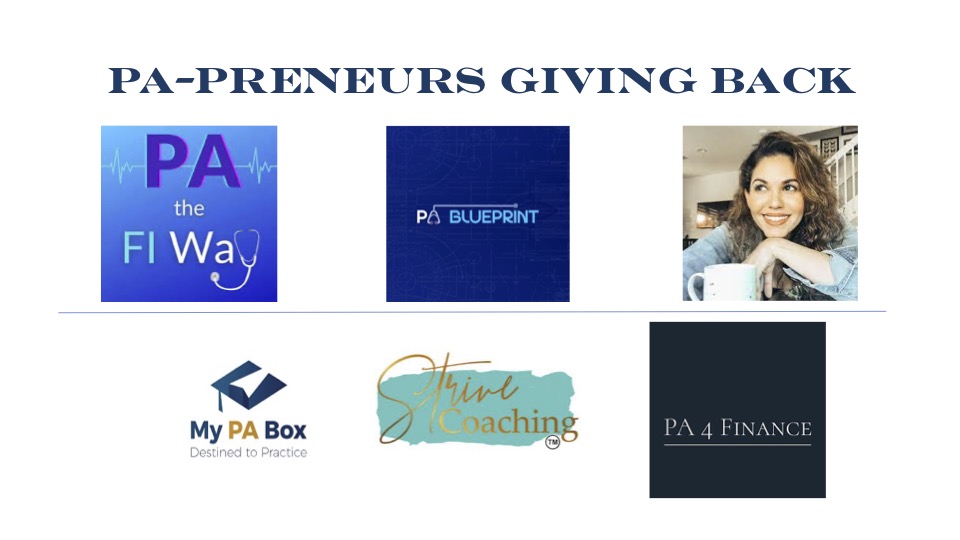 Application Closed For 2022!
APPLICANTS: Applications for the 2022 award are due by June 1st, 2022. We will be notifying the chosen recipient by July 1st, 2022, and will announce that on our platforms. Any Pre-PA, PA Student, or practicing PA is eligible to apply. The award will be for $750-$1,000 and can be used towards any education expenses.
Please note that while we welcome and encourage all PAs to apply, we will be giving additional consideration to those who represent non-traditional and underrepresented minorities.
Please check out the websites of all the contributors!
DONATIONS: If you would like to provide some assistance to a PA that is freshly starting their career, and feel moved to contribute to the scholarship, just reach out to us to arrange a donation at thepablueprint@gmail.com. You can be confident that 100% of the donations will go to the chosen recipient. Thank you for considering a gift.